Invited by celebrity Chef Jean-Georges Vongerichten, Chef Sébastien Agnès arrived at this land only last year, with the sole purpose of opening his own restaurant where he could offer more affordable wining and dining options than any other large hotel restaurant in Los Cabos.
While new residents and investors arrive in Los Cabos, the culinary landscape has also been growing. Up until the pandemic you had to choose between the tasty and simple gastronomy of the local restaurants or going to one of the high-end restaurants, where the prices can be very elevated. Luc- kily, all of this is changing. With this idea in mind, the French chef Sébastien Agnès decided to venture on a restaurant where haute cuisine, lower prices and a well-nourished wine lists are combined, as well as the use of a reflned technique on fresh products from the south of the peninsula. Located in Plaza del Pescador, in front of Cabo Azul Resort in San José del Cabo, the name was ori- ginally Fish & Grill, dedicated to those British fried foods that did not reflect the gastronomic local spirit, so it has already been changed into its new name: Bistró by Sébastien Agnès.
Agnès came to visit Los Cabos earlier in 2008, by invitation of celebrity chef Jean-Georges Vongerichten, the Food and Beverages director at The One & Only Palmilla; precisely one of the hotels classified in the super luxury category, who led him to open the Market restaurant that he later directed.
Before that, he had already learned the Chef profession in Paris, where he collaborated in various Michelin stars restaurants and with another well known Chef, Eric Frechon at the Le Bristol hotel. More so, he toured Southeast Asia on his own and got to know in depth the techniques of Thai cooking, which he most admires.
Back in Los Cabos, he was the chef of the Maravilla development, another of the luxury spots in the touristic corridor, and now he is diving into his first adventure as an entrepreneur.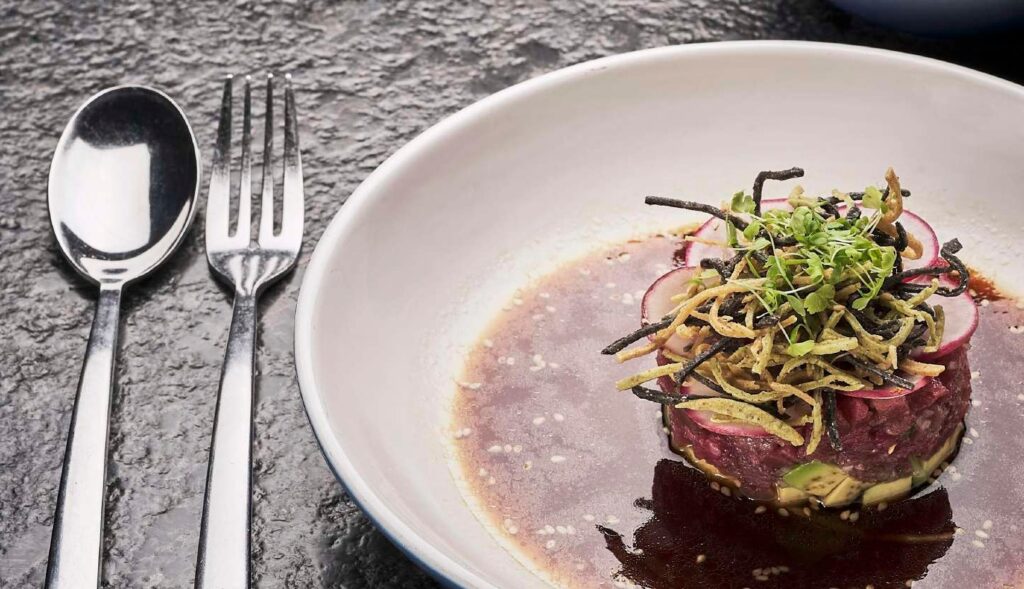 Product quality
Agnès, like so many others, has been charmed by the beauty of Baja California Sur. However, it is not only the products from the Ocean but he has also incorporated the agricultural local produce into his fresh, high-quality food. A good example of this are the mangoes from Santiago, a town located 40 minutes north of San José; a town that not only has a culinary but also historical value, since the indigenous revolt that forced the founding of San José in the 17th century took place there.
Over there lives Héctor Hernández, owner of Baja Mango & Co., a company that provides high-quality mangoes to the main hotels in Baja, including Palmilla, where he met Chef Agnès.
Every year from June to August, the town of Santiago is flooded with the delicious smell of mangoes, in so many varieties such as Kent, Haden, Keith and Manila, which have found in this microclimate one of the best places for growing.
In this small town, mangoes grow fragrant, their meat has a great consistency and an extraordinary sweetness that attracts not only gastronomy lovers.
Coincidentally, in the local Bistro menus new fresh salads will appear where mango is the star; Fish sashimi accompanied by mango as well as seafood from Baja California Sur, especially oysters and lobsters.
Lets not forget, custards, cakes and other desserts where this delicious fruit shines prominently.
Last year Agnés and Hernández collaborated presenting some original menus enriched by the Chef's culinary art and technique combined with the farmer`s expertise and product knowledge.
Agnès has not forgotten his original idea, so in his restaurant a two-course meal, including dessert and a drink, does not exceed 2 thousand pesos for two people.
Regarding the wines, they are from different latitudes and choosing carefully it is possible to enjoy a bottle starting at 600 pesos. Gastronomic alternatives such as this one are arriving to the Los Cabos gastronomic scene, which no longer oblige lovers of good food to have to spend a fortune for a memorable dinner.